About our company
South Bohemian Science and Technology Park, corp. (JVTP) was funded by the South Bohemian Region in 2008 with the aim to support intensity, quality and speed of spreading the innovation and technology transfer to the regional economy. Actual members of the executive board and controlling board of JVTP, corp.
Mission and purpose of JVTP is to support entrepreneurship in the region. JVTP in the new building offers environment in a form of equipped laboratories, offices, seminar rooms or technology halls, and also provides to settled enterprises all what they need for their activities. Service of JVTP are preparation of business plans and studies, assistance to preparation of research and developmental projects or finantial plans. Another provided service is a grant consultancy including framework programme, facilitation to academia-business cooperation or monitoring of new research findings and technology trends. Part of the service is the assistance to ensuring intellectual property rights protection.
About the project of JVTP
| | |
| --- | --- |
| Project name: | Development of JVTP, Stage IIA |
| Project number: | 5.1 PP04/032 |

---
Project of the South Bohemian Science and Technology Park (JVTP) is supported from the European Regional Development Fund by 75 %. It was realised by the eponymous company whose only shareholder is the South Bohemian Region co-financing this project.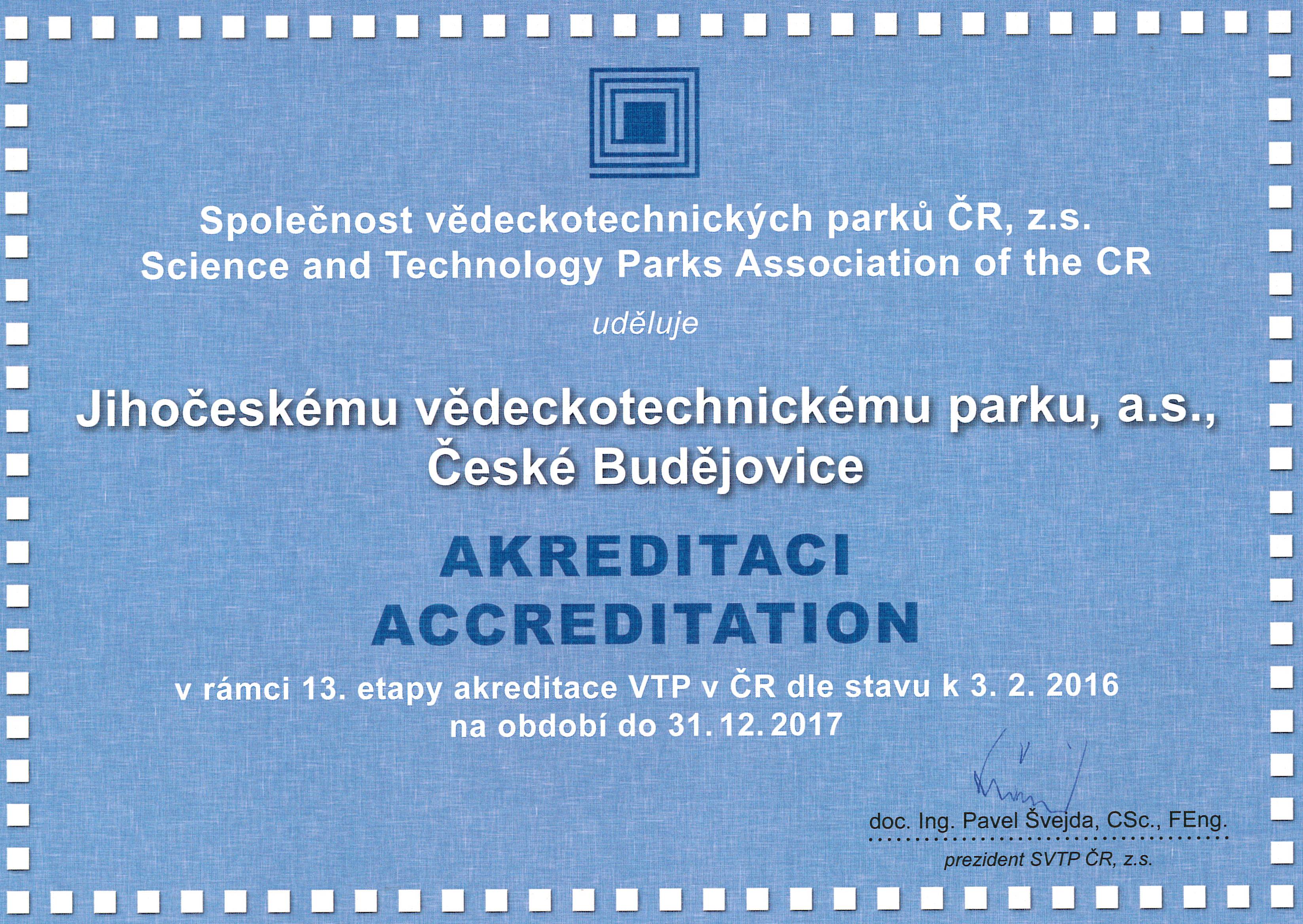 Output of the project has been the new building of the South Bohemian Science and Technology Park with 3097 m2 floorage. JVTP is suitable for both, small and medium-sized innovative enteprises dealing with appropriate roam for their growth as well as for university absolvents searching for space to realise their ideas and to develop their business.
South Bohemian Science and Technology Park, corp. is a full member of the Science and Technology Parks Association of the Czech Republic (STPA), which gave to JVTP accreditation certificate. Fulfilling the requirements of STPA on degree and quality of provided services guarantees certain level of science and technology parks. More information on SVTP and conditions of accreditation is available on the STPA websites.
The environment of JVTP is dedicated to:
Research teams with applicable technical solution,
Entrepreneurs with connections to research organisations,
Functional technological innovative enterprises,
Other enterprises offering support business services espetially to the settled companies.
JVTP offers space for your ideas, in which the JVTP, corp. rents furnished laboratories and offices, seminar rooms for subsidised prices. It is also possible to get support in a form of consultancy in the issues of financing, establishing companies, technology transfer, marketing and so on.
Wednesday, 29. November 2017