3D print
JVTP is equipped with 3D printer profi3Dmaker by Aroja with a 0.5 mm diameter nozzle. This printer works on a basis of FDM (fusion deposition modeling) – the printing material in a form of string is melted and thinly layered.

There is a visible fine structure of particular layers on the model, and it is necessary to mechanically postprocess the model in case of using supports. The models vary in their attributes according to the chosen material.
The most often used materials are plastics ABS and PLA, but the offer of printing fillaments is constatntly growing (e.g. wooden composite, silon) so it is possible to achive for example toughness or flexibility, weather resistance, etc. of the final application. Some materials may be further processed for example by glueing, cementing or painting.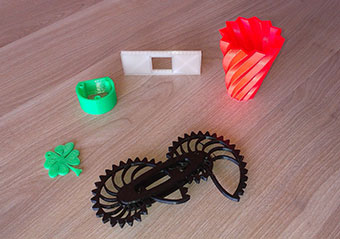 The size of our 3D printer allows us to print models up to 400 x 260 x 190 mm, which are rather not suitable for precise applications due to the scale of detail. However, they are very suitable for prototyping, and in specific cases when the surface precision does not matter, it is possible to use the model as a final product. Some examples of users are engineering and electrotechnical enterprises, architects, modelers or construction engineers. The benefits of using 3D printing is substantial shortening preparation time and cutting cost of the prototype development. 3D printing makes it possible to get such constructions that could not be achieved with traditional machining processes.
To create a spatial model, you first need to get a three-dimensional drawing. The most common way is to use some of the drawing programmes than can be used to create any model which is later converted to the stl formate dedicated for 3D printers. Our facility is equipped with the professional drawing programme AutoCAD, which can be used for such purposes. Another option is the 3D scanner for scanning threedimensional objects. In this case, it is necessary to arrange the objects a bit, because they usually contain some mistakes.

JVTP, corp. offers 3D print including operating staff. The only thing we need to get is the threedimensional image of your model. To get a price offer, please send us your printing file in the .stl formate together with your requirements and we send you our offer in return. Send your requests to info@jvtp.cz.
Technical parameters
Printing surface: 400 x 260 mm
Maximum printing height: 190 mm
Heating bed: YES
Total modelling space: 19760 cm3
Layer resolutin: 0.08 / 0.1 / 0.125 / 0.25 mm
Nozzle: 0.5 mm
Size: 600 x 700 x 500 mm
Weight: 35 kg
Printing speed: 80 mm/s
Crossing speed: 230 mm/s
Interface: USB or SD card
Power supply and input: 24 V / 220 W + 24 V / 120 W